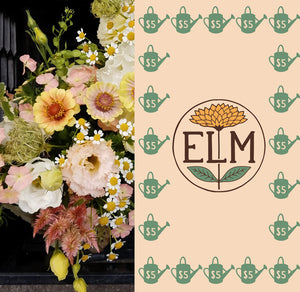 ELM Flower Punch Cards
Pay $90 now, for $100 worth of flowers!
Flower Punch Cards help us grow flowers for you. Like traditional Community Supported Agriculture or CSA models, FPCs bring us money at the start of the growing season when we need it most to purchase seeds and supplies. Unlike traditional CSAs, FPCs are open ended and can be used whenever and however you'd like- weekly or all at once, at the market or for special orders. Punch hearts are in convenient $5 increments to accommodate for different product price points. Since FPCs don't expire, they will carry over from one season to the next. If you are concerned about forgetting or losing your punch card, we will hold it for you at our market stand.
Flower Punch Cards make great gifts. We will send a FPC in a handmade card to your recipient with a special note from you.
Your support helps us bring you beautiful flowers and enables us to have a successful growing season.
Thank you!
Eustacia & Paul
ELM Garden & Floral Design